Calvary Baptist Church
Our Lord instructed us in Matthew 28:19, 20 that we should "Go ye therefore, and teach all nations, baptizing them in the name of the Father, and of the Son, and of the Holy Ghost:  Teaching them to observe all things whatsoever I have commanded you: and lo, I am with you always, even unto the end of the world."
It has been the purpose of the Calvary Baptist Church to carry out this mandate in and around Sandusky, Ohio.  Over the years God's hand of blessing has been evident upon the ministry.  We praise Him for His abundant grace and mercy in sustaining this local assembly.
The establishment of this church came about over concerns for doctrinal and practical purity.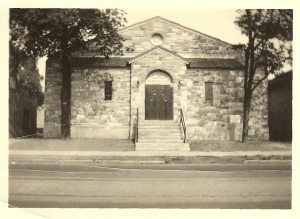 Under the leadership of Dr. Ralph Stoll (then pastor of First Baptist Church in downtown Sandusky) several believers withdrew from membership at First Baptist and formed "Calvary Baptist Church Independent." Dr. Stoll became the first pastor and guided the congregation in the forming of its initial doctrinal statement, constitution, and governing principles.
After meeting in an empty church building in town for awhile, the company of believers erected, quite literally by hand, their first church building at 1012 Columbus Avenue.  For the next thirty-seven years, God prospered the assembly.  Many people were impacted by the ministry of the nine godly pastors who served the congregation while it met at the Columbus Avenue location.
The leadership of the church sensed the need to expand and in 1970, relocated the ministry to a new facility at 1810 East Perkins Avenue.  At the present campus, the members have seen the Lord continue to uphold the work.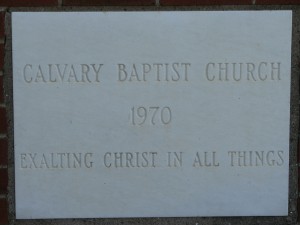 An adjacent lot was purchased and a Family Life Center erected to facilitate the growth of the church.  Five pastors have served faithfully during the years at this location, aided by the help of three youth pastors.
Of course, the measure of a ministry is not seen primarily in brick and mortar.  It is in the lives of people who have come to know Christ as their Lord and Savior.  The distinguishing mark of this community of believers down through the years has been their devotion to the truth of the Word of God and their sincere desire to live it out in their lives.  Only God, by His supernatural power, can redeem sinners and reclaim their lives for Himself.  Praise the Lord for His marvelous grace!
Significant Dates and Events
March 5, 1931  – Original organizational meeting for the church; Dr. Stoll called as first pastor; name chosen for the church
March 8, 1931 – First church service held
April 29, 1931 – Church constitution adopted (including by-laws, doctrinal statement and covenant)
May 26, 1931 – Church was legally incorporated
November 30, 1933 – First service held in the building on Columbus Avenue
November 30, 1953 – Purchase of adjacent building to Columbus Avenue church for Sunday School space
July 15, 1964 – Affiliation was established with the General Association of Regular Baptist Churches (GARBC)
September 23, 1964 – A new parsonage was purchased (later sold)
September 13, 1967 – Acreage purchased on East Perkins Avenue
November 22, 1970 – First service held in church building on East Perkins Avenue
September 10, 1989 – Family Life Center completed and more acreage purchased
1999 – Built a garage/storage addition onto the FLC
October 28, 2001 – Voted to purchase 10-acre parcel of land adjacent to our present land to our East
March 5, 2006 – Celebrated our 75th Anniversary
Summer 2007 – Carport Project completed
Summer 2009 – Playground addition; Field House completed
Summer 2010 – Remodeled storage space in FLC for new teen room
Spring 2012 – Education/Administration addition completed